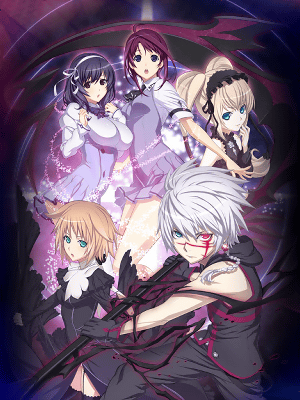 Note:
Based on the ongoing manga series written by Hiroyuki Yoshino(screenwriter of My-HiME and Code Geass) and illustrated by Ken'etsu Sato who did the manga adaption of My-HiME series. Character designer Makoto Uno is known for his curvy girls in Witchblade and Dragonaut: The Resonance, and animator Hiraku Kaneko who did the character design for the buxom Cattleya in Queen's Blade will make his director debut. You can count on a whole lot of cleavages here.
Synopsis:
The story takes place on the grounds of St. Mihailov Academy, a Japanese Eastern Orthodox school, and draws heavily on religious references from the aforementioned religion. Here it follows the trials and hardship of two of its students, Oribe Mafuyu and Tomo Yamanobe, until the encounter with a mysterious, silver-haired, Russian boy named Alexander, or Sasha for short. This pits them and the whole school in an all-out war between the Church itself and the so-called "Adepts", a sect of individuals wielding powers linked to the elements of chemistry.
Airing:
January-
Staff:
Original Story: Hiroyuki Yoshino, Ken'etsu Sato
Director: Hiraku Kaneko
Supervisor: Munenori Nawa
Character Design: Makoto Uno
Series Composition, Screenplay: Makoto Uezu
Screenplay: Tohko Machida, Shigeru Morita
Chief Animator: Isao Sugimoto, Hiroya Iijima
Set Design: Tomoyuki Aoki
Prop Design: Hiroyuki Ohkawa
Background Art Director: Takafumi Suzuki
Cinematographer: Kohjiro Hayashi
Composer: Tatsuya Kato
Sound Director: Jin Aketagawa
Animation Production: TAKI Corporation, Hoods Entertainment
Cast:
Alexander(Sasha): Yuko Sanpei
Mafuyu Oribe: Ayumi Fujimura
Tomo Yamanobe: Aki Toyosaki
Teresa Beria: Minori Chihara
Ekaterina: Aya Hirano
Hana Katsuragi: Yoko Hikasa
Miyuri Tsujidou: Ayako Kawasumi
Fumika Mitarai: Kana Hanazawa
Elizabeth: Ai Shimizu
Ayana Minase: Ayahi Takagaki
Yuri Noda: Susumu Chiba
Shinichiro Otori: Toru Okawa
Opening Song: Faylan "Errand"
Ending Song: Mafuyu Oribe, Tomo Yamanobe, Teresa Beria, Ekaterina, Hana Katsuragi "Passionate squall"