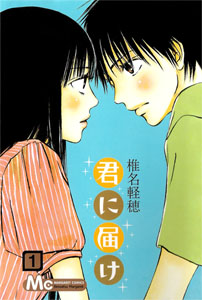 STORY
Sawako Kuronuma, called Sadako by her classmates for her resemblance to the character from Ring, has always been feared and misunderstood because of her appearance. There are rumors that Sawako can see ghosts and curse people. But when her idol, popular boy Kazehaya, begins talking with her, everything changes. She finds herself in a new world, trying to make friends and talking to different people and she can't thank Kazehaya enough for giving her these opportunities. Slowly, but surely, a sweet love is blossoming between the two as they will overtake any circumstance or clear obstacles in their way.
CHARACTERSSawako Kuronuma (called Sadako by classmates)
Sawako is a shy yet honest girl who is in search of friendship, but her resemblance to horror film character Sadako and Sawako's tendency to shy away from correcting people of misconceptions prevent her from doing so. Thanks to Kazehaya's kind and open nature, she is able to gradually make friends, open up to her classmates, and talk to different people. She is grateful (and at first, worships) Kazehaya for giving her the opportunities to make close friends, which come to include Yano, Yoshida, Kazehaya and Ryu. Yano and Yoshida admits that Sawako's 'like' to Kazehaya might be even more than Yano and Yoshida themselves. She is rather short, in part because her father is as well (he is only 160cm tall) and is surprisingly fast which is revealed during a soccer match at the school's sports festival. During Chizuru and Ayane's first visit to Sawako's house, Chizuru notes that Sawako's lips look like her mother's and most of Sawako's other features resemble her father's. A running gag is that she seems to take what people say seriously as well as over analyze a situation, which tends to scare the people around her.
Shota Kazehaya
Kazehaya is Sawako's outgoing and friendly classmate. He is so popular that during middle school, so many girls liked him that they formed a "Kazehaya is Everyone's" Alliance in order to maintain some level of peace among his admirers and more than half of these girls now attend the same high school. Kazehaya has held a long standing interest in Sawako and admits (though not to Sawako) that he likes her (He gets jealous easily), unaware that she feels the same for him [6]. During their second year of high school, he begins to wonder if she actually likes him after she does not give him chocolates on Valentine's Day, not knowing that she had been too nervous to give him any. He seemingly becomes calmer and shows a depressed and expressionless face more often. However, after being confronted by Ryuu (influenced by Chizuru) and Pin, Kazehaya goes to Sawako as his friends jokingly remark that he likes Sawako; however, Kazehaya takes the remark seriously and agrees, subsequently confessing directly to Sawako.
Ayane Yano
Ayane is a close friend of Sawako. She is the arguably the most mature of the group and she has a boyfriend in college. In Kurumi's fake rumors, it is said that Ayane has played more with more than 100 guys in middle school. In their current high school, it is being said that Yano and Yoshida have pretty much authority in the year group. Perceptive and intelligent, a trait of Ayane's personality is that she gives just enough information to leave others wondering, thus forcing them to move forward. Although she is usually calm and collected, she is easily infuriated if someone hurts Sawako and does not hesitate to attack the one responsible she believes is responsible (frequently Kazehaya) with kicks and sharp words.
Chizuru Yoshida
Yoshida is another close friend of Sawako. She is the tomboy of the group, and she even admits this when Ryu calls them brothers, where she argues about who is the older rather than that she is not a 'brother'. She has a soft spot for innocent mannered people, so she takes a near instant liking to Sawako. In Kurumi's fake rumors it was passed around that she was a former Yankee, though Chizuru just takes the rumor as a means of scaring people off or as a joke for her friends. Chizuru is mostly only the slower side of things; she did not realize that Kazehaya liked Sawako (even though she and Ayane planned many events for them) until late in the series, after they started their second year of high school. She is a close childhood friend with Ryu Sanada, who is also the son of her favorite ramen shop's owner, and went to the same middle school as Kazehaya. She has a crush on Ryu's brother, Toru.
Ryu Sanada
Ryuu is also member of Sawako's group of friends. He is quiet most of the time and rarely talks, but still can communicate well with Sawako, as they both don't talk much anyways. He is a close childhood friend with Chizuru and does not deny having feelings for her, such as simply smiling when Sawako asks if he and Chizuru are dating [8] He later confirms his love when he confesses that he likes Chizuru to Sawako. Ryu and Kazehaya became friends when they were on the baseball team during middle school.
Kazuichi Arai
Arai is the temporarily homeroom teacher for Sawako's class, taking over when the previous homeroom teacher became sick during the summer holidays while Sawako was helping him. He is nicknamed Pin and always is called that way, except Sawako who obeys the formalities and still calls him Arai-sensei. Pin is a great fan of baseball as well as the school baseball team's coach. He used to be part of Kazehaya's father's league team, so he has known Shota since when he was young. A loud and eccentric man prone to believing the silliest things, Pin apparently enjoys interrupting people. He had nicknamed the puppy that Sawako and Kazehaya found by the river "Pedro Martinez" after the legendary baseball pitcher.
Tomoko Endo and Eriko Hirano
Endou and Hirano are classmates of Sawako. After Sawako begins to open up, Endou and Hirano become some of her first friends. Their nicknames are "Tomo" and "Ekko".
Ume Kurumizawa
A girl who appears friendly and sweet to everyone around her, she has had a huge crush on Kazehaya since their first year of middle school. She dislikes her given name, Ume, because it sounds old-fashioned and prefers to be called her nickname, "Kurumi." She is extremely jealous of Sawako, which led her to spread fake rumors of Sawako's only friends at the time, Yoshida and Yano, using Sawako's name. Kurumi does not attend the same class as Sawako or Kazehaya. She eventually confesses her love to Kazehaya, but receives an expected rejection. [9] Because she is always surprised with Sawako's naiveté, Kurumi is able to become friends with her, as well as a rival for Kazehaya's affection. Following Kazehaya's rejection, she becomes colder to her classmates, but is able to finally express her true feelings and personality.
Kento Miura
A student in Sawako's class during second year who sits next to her. When Sawako befriends Miura, Kazehaya becomes jealous of him as a potential rival for Sawako. He is interested in girls, particularly Sawako and tries to persuade her to give up on Kazehaya, suggesting that she is burdening him.
Tōru Sanada
Tōru is Ryu's older brother by eight years and Chizuru's crush since she was young. Although he is Ryu's brother and t
hey resemble one another, their personalities are nearly opposite. Tōru resembles Kazehaya personality-wise and looks extremely refreshing, except much more mature. He lives three hours away from his parents' house and returns home to get married.
Yoshiyuki Arai
The original home room teacher of Sawako's class. He and Pin have the same surname, but are not related and to distinguish them, Pin refers to him as "Zen". He seems to be afraid of Sawako and the rumors surrounding her as "Sadako". Because he is easily ill, students often believe that Sawako has cursed him. Arai is newly-wed.
Soichi Jonouchi
One of Sawako's classmates, easily swayed by other people. He generally appears in the background. At one point, he is rejected after confessing to a girl he liked and is comforted by Kazehaya.